Opened on April 5, 1961, Anaheim's Brookhurst Theatre was the first Orange County cinema to feature 70mm films and was one of the county's finer movie going destinations, well in to the 1970's. At the time of the theatre's opening, the design was termed "ultra modern" and the amenities were considered a step above other county movie going options. As a result, the theatre's early popularity was such that an all loge seating satellite venue was added in the early 70's (the Brookhurst Loge) and the cinema's googie style, a-frame, street sign was an often referenced area landmark.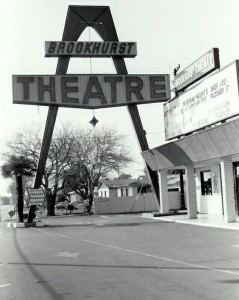 Unfortunately, by the mid 80's, the theatre had begun to suffer from a declining neighborhood demographic and the industry's conversion to a multi screen business model. Attempting to stay viable, the theatre was briefly closed in the early 90's, remodeled, and divided in to four auditoriums. This new configuration, while losing much of the theatre's former grandeur, allowed the venue to stay afloat for another ten years. However, the Brookhurst's reputation continued to decline, as the site fell in to disrepair, under a revolving door of operators. Even a brief attempt at offering discount booking failed to attract a sizeable audience, forcing the theatre's final operator, Starplex Cinemas, to shudder the venue, under mounting maintenance expenses, in early January of 2006.
Despite having served the Anaheim area for forty-five years, the Brookhurst's passing garnered little notice from locals or the media. Having been the theatre's keyholder/caretaker, for the past three years, I can attest that interest in the site was limited to a mere four halfhearted inquiries (none in regard to use as a cinema). Now, with Starplex's lease having run out, I can only speculate as to the fate of the Brookhurst. More than likely, it's decay will continue unchecked, until there is no other option but to demolish the site. 
Today, the Brookhurst Theatre sits, virtually forgotten, near the corner of Brookhurst and Ball. There are few reminders of what the theatre once was; the a-frame sign was removed long ago, the covered drive up entrance was remodeled in to a Filipino restaurant, the formerly notable 944 seat auditorium is cheaply divided in to four irregularly shaped shoebox theatres, and the "ultra modern" design is best described as "ultra dingy". Few even realize the beauty school, that stands beside the theatre, was once the Brookhurst's loge luxury movie going option. These days, the Brookhurst is little more than another fading cinema memory.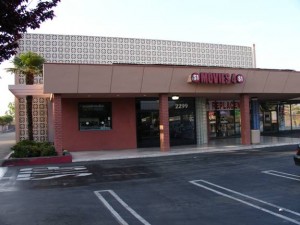 Tags: 5 Comments