Demonstrating how swiftly the tides of notoriety shift with cinemas, we have
Cinema Viejo
. Opened in 1970, as the area's fist movie theatre and one of the only modern cinemas south of Newport Beach, Cinema Viejo was, for a time, a heavily cited selling point in literature for the, then new, community of Mission Viejo.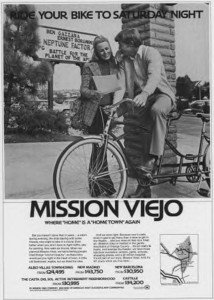 Twinned and renamed the "Viejo Twin" in the mid 70's, the theatre remained popular throughout the decade. However, by the 1980's, an influx of competition and the popularity of multiplexes began to take their toll. By the 1990's, the Viejo was looked on as a bit of a dinosaur by locals and ever declining attendance forced it's closure in 93′.
These days, the former "Saturday Night Destination", sits quietly, on a secluded Mission Viejo side street, serving as a youth ministry.  
Tags: No Comments