While disruptive children are often portrayed as a modern hassle of movie going, this problematic issue has likely been around as long as parents have been taking children to the movies. These days, the problem is generally taken for granted or occasionally addressed through alternative admissions programs (21 and over only, "mommy Mondays", etc.). However, there was once a rather simplistic answer to this issue, the "cry room". 
The first theatre to utilize the idea is lost to history, but, beginning in the 1940's, many cinemas featured a small, soundproof, room or booth, in the back of their auditoriums, that allowed parents with disruptive children to watch films without bothering fellow moviegoers. These cry rooms, usually seating no more than a half dozen people, featured a large viewing window and often an independent audio source. Occasionally, the space was set up in a more casual "living room" fashion, but, more often than not, they provided amenities that mirrored the adjoining auditorium. This seemingly ideal feature never caught on as an industry standard, but, for several decades, the cry room was a luxury amenity for many modern cinemas.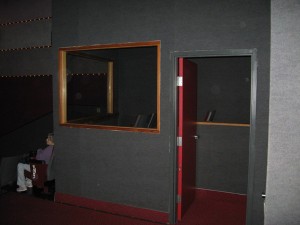 By the 1970's, cry rooms went the way of "smoking lounges", loge seating, and other luxury features; virtually disappearing by the end of the decade. With the advent of the multiplex, cinema operators began to approach their venues with an eye towards economically efficient use of square footage (AMC, somewhat notoriously, began utilizing an attendance per square foot formula in their theatre design/operation). "Cry rooms" were simply viewed as a waste of space in the efficiency model of the multiplex era.
Over the ensuing decades, this idea has popped up from time to time, as a novelty, and, even today, there are chains which have revisited the concept, as many operators search for ways to recapture fickle audiences. In Orange County, the sole remaining example can be found at the
Rancho Niguel 8
, in Laguna Niguel; a late 80's, Mann build, that features a number of novel design features (for the time), including an early attempt at stadium seating. Considering that disruptive children remain a common complaint among movie goers, and that theatre operators have begun to look back towards their showmanship roots, one wonders if the "cry room" might just make a comeback in the near future.
Tags: No Comments