Pictured below is a close up of an Automaticket machine. Evolving from being gear and lever driven, to powered by electric motors, these ticketing machines served as somewhat of an industry standard for over eighty years (if you have ever received a carnival/raffle style ticket, at a theatre, it was likely distributed via an Automaticket machine). While there are still a few of these machines in use, the theatre industry generally abandoned such ticketing systems, in favor of computerized ticketing, by the late 1980's.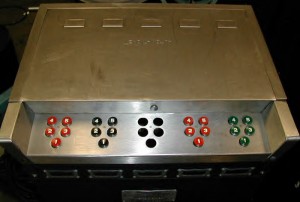 Aside from cinemas, Automaticket was also heavily involved in early twentieth century bus and railway ticketing; especially in the United Kingdom, where the company licensed with the Bell Punch corporation. In later years, Automaticket focused primarily on mechanical business equipment (partnered with Bell Punch, Automaticket manufactured some of the earliest mechanical calculators), but failed to transition successfully in to the computer age. By the new millennium, Automaticket's product line was relegated primarily to the world of collectors and museums.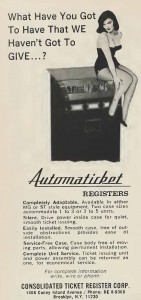 In Orange County, a functioning  Automaticket machine still distributes tickets at Newport Beach's Lido Theatre.
Tags: No Comments