Cinemas have stirred the entrepreneurial spirit in want-to-be moguls and dreamers since the dawn of commercial film. Be it the perceived excitement and glamour of being involved in the entertainment industry or merely the draw of a potentially lucrative cash cow, countless individuals have looked on theatre ownership as somewhat of a fantasy business venture. While a few managed to find great success in the exhibition industry, many more found themselves stopped well short of their goals and fantasies, failing to even get a foot in the proverbial door. A situation that laid the groundwork for a doomed chain and concept, that was fronted by an unlikely "get rich guru".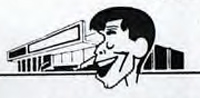 In 1969, entertainer Jerry Lewis (yes, that Jerry Lewis) partnered with the Network Cinema Corporation to form a chain of theatre franchises, via "Jerry Lewis Cinemas". The concept was to open the possibility of theatre ownership to anyone who was able to meet initial investment requirements (a $15,000 to $50,000 downpayment), through franchising both individual cinemas and territories. Jerry and company would provide the know how, name recognition, and marketing; franchisees would put up the money and man hours. Promising "if you can press a button, you can own a Jerry Lewis Cinema", the company appeared to be the "turn key" answer to owning your own movie theatre.
Lewis' theatres, branded "mini cinemas", followed a standardized model that called for 1-3 auditoriums, seating 200 to 350 patrons each, focusing on operations efficiency. While similar to the "cracker box" design of most 70's multiplexes, mini cinemas were generally a notch above their peers in decor and featured what could best be described as mid level amenities (i.e. neither cheap nor luxurious). Perhaps, the key sales point to these venues was the promoted automation of projection, concession, and box office, which was alleged to make the theatre an ease to operate. Billed as requiring as few as two individuals to run a theatre, the Jerry Lewis business model was targeted to increase profit, through lower overhead costs.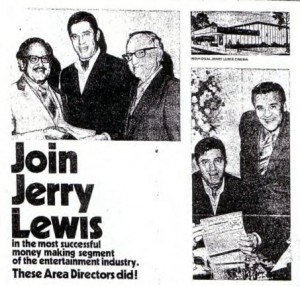 Implementing a heavy sales push, throughout the early 70's, franchise seminars were held across the country, instantly pulling from the long standing pool of want-to-be cinema owners. Franchisees were given the option of either owning an individual site or becoming an "area director", who oversaw a protected territory and licensed cinemas within their area. By mid decade, the chain had grown to include some 200 sites, with another 100 slotted for development. Yet, despite the company's rapid growth, cracks in the Jerry Lewis business model soon became apparent.
Almost as quickly as the chain had spread throughout the country, mini cinemas began to fold at an alarming rate. Initially, owners cited the company's policy of only booking "family friendly" films as the trouble spot, but, the decline continued, even after the policy was expanded to include more competitive booking practices. The finger pointing then turned to the company's lack of continued support and lackluster marketing of venues; with owners feeling that they were left out in the cold once a cinema had been purchased and opened. Additionally, owners had discovered, much to their dismay, that the "push button automation" fell well short of what was advertised, leaving many sites in a continuous state of chaos. The end result of all these issues being a growing series of lawsuits and the company grinding to a near halt towards the close of the decade. By 1980, the chain was completely defunct, with both Jerry Lewis and the National Cinema Corporation filing for bankruptcy.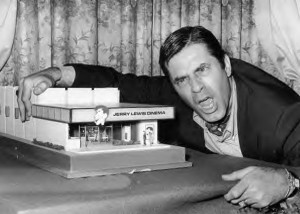 While a host of poor business decisions likely played a role in the failure of Jerry Lewis Cinemas, the most glaring flaw was the very concept that anyone could own a theatre and operate it with minimal effort. As with far too many "get rich" schemes, all of the involved parties had been "blinded" by their fantasies and failed to consider the practical realities of running a successful business, let alone a business as unique as a movie theatre. Most franchisees entered in to the venture without the skills or experience to properly operate their theatres; in turn, Lewis and company failed to adequately prepare or support their, primarily inexperienced, cinema owners. The "ease" of running a movie theatre had been highly exaggerated, the extensive demands of operating a successful  business had been overlooked.
There were few positive notes left In the wake of Jerry Lewis Cinemas' disastrous run. Former franchisees tend to reflect on shattered dreams, broken promises, and ruined finances; one particular individual I corresponded with relayed that, even thirty plus years after the fact, Lewis' yearly telethon appearance never fails to anger him. Mr. Lewis went on to release the dreadful 1981 film "Hardly Working", to aid in his financial recovery, managing to emerge from bankruptcy shortly thereafter. The former mini cinemas, once touted as "a big money making business", are all but gone, with only a handful of structures still standing in any form. At best, Jerry Lewis Cinemas' overall legacy stands as part cautionary tale, part obscure trivia on a legendary entertainer's biography.
Tags: 10 Comments