This week marks the anniversary of the
Brea Plaza
opening. An undersized and unassuming theatre, the Plaza never made much of a mark on Orange County, but the venue has somehow managed to survive for thirty two years.
Opened on April 1, 1977, the Plaza was the first theatre built by Mann in Orange County (previous county sites had been acquired through Fox West Coast/National General). Typical of the chain's initial multiplex expansion, the theatre's design cut far too many corners and failed to utilize a prime piece of real estate properly. As a result, the Plaza never managed to capture a sizeable audience, during it's first run days, and became known as a movie going destination of last resort. Rather than closing up shop, the theatre would fall under the management of Edwards in 1991 and attempt art film booking, to boost ticket sales, with equally poor results. Following Edwards' bankruptcy, the Plaza was one of the chain's first theatres to go dark and there was talk of converting the building in to a warehouse for a near bye furniture store. Then, in a last ditch effort, the infamous
Captain Blood's Family Theatres
took on the site in 2001, as a discount venue. Blood would basically run the theatre in to the ground, allowing the facility to fall in to extreme disrepair, before being evicted in 2006.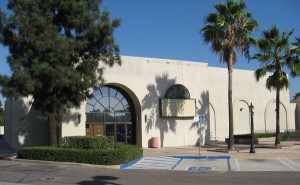 Following Blood's departure, the Brea Plaza stood vacant and forgotten, failing to attract any further interest from operators; the theatre's awkwardly compact lobby, severely undersized concession stand, and hidden location calling for far too great a remodeling investment to make the site worthwhile as a cinema. Yet, true to the Plaza's "never say die" history, the theatre managed to briefly reopen, as a "haunted attraction".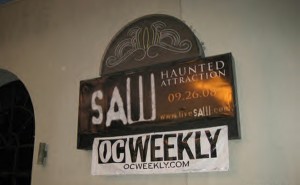 Licensing the "Saw" film franchise, from Lionsgate, a local special effects aficionado turned the vacant theatre in to a, "Saw" theme, haunted house in the Fall of 2008. While only open for a month, the event managed to, temporarily, bring some attention back to the Brea Plaza. Heavily modified with horror props and set pieces, the theatre's interior was barely recognizable from it's years as a cinema, but the reworking was a vast improvement from the vandalized mess that had existed previously. However, the attraction's decorating efforts also placed one more hurdle to be overcome for any future suitors.
Between the Plaza's original design shortcomings, years of neglect, and remaining horror theme decor, there seems little chance anything further will become of the tiny theatre. But, considering it's almost phoenix like ability, to rise from the ashes, one can never truly write off the Brea Plaza.              
Tags: 3 Comments