The Disneyland area of Anaheim has long been an entertainment focal point, yet cinemas have always struggled to find a niche within this Mecca for recreational spending. Since 1955, over 500 million people have been drawn to the Magic Kingdom, supporting a dense network of hotels, motels, restaurants, and assorted retail establishments that encircle the resort. However, that same period has only seen three commercial cinemas in the area; each having struggled to tap in to the area's lucrative cash flow.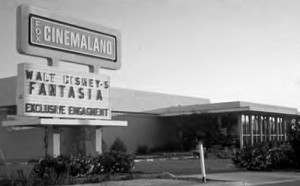 The area's first cinema,
Cinemaland
, opened in the spring of 1968 and barely managed to stay in business for a decade. Located directly across the street from Disneyland, the theatre was operated by National General/Fox West Coast, as a plush single screen. Never a run away success, the venue experienced modest business from the onset, despite being considered a flagship theatre, for it's facility excellence. While offering a top of the line movie going experience, Cinemaland quickly fell victim to the era's multi plex craze and was poorly divided in to three auditoriums, by new operator Mann. The tri plexing of Cinemaland only served to hasten the theatre's decline, with the venue closing for good in June of 79′. After sitting vacant for another two decades, as a decaying eyesore, the theatre was razed for a large parking lot and bus depot (the empty space beside Howard Johnson's Plaza Hotel).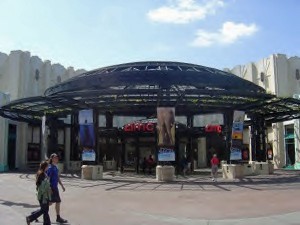 AMC's Downtown Disney 12
opened in 2001, as part of the resort's outdoor shopping, dining, and entertainment plaza. The twelve screen, 2,930 seat, complex was a dramatic downsize from the megaplexes AMC had become known for by that time, but the theatre also pointed towards the "quality over quantity" direction the entire industry would undertake in years to come. Featuring "classic era" styling, coupled with "megaplex era" technology, the theatre exemplified the modern retro movement that has become a staple of cinemas in the new millennium. While experiencing healthy business anytime family oriented blockbusters screened, the theatre never fully lived up to attendance expectations; proving more successful as a special events venue, than day to day cinema.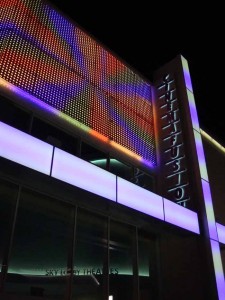 Finally, we come to the area's latest contender, The Movie Experience's
Garden Walk 14/Cinema Fusion theatre
. Officially opened on July 18, 2008, the $17 million theatre was built as part of a large commercial "lifestyle center", Garden Walk. While styled with a retro "googie" decore, the fourteen screen venue also implemented a host of innovative and cutting edge amenities that defy industry standards. Perhaps, the most adventurous offering being the theatre's multi format exhibition style; featuring four separate viewing options, traditional, 21+, luxury screening room, and IMAX. Termed "cinema fusion", by the theatre's operator, the "all in one" theatre experience was hailed as the next step in film exhibition. Whether this bold effort will ever live up to expectations or not remains questionable. A year in to operation, Cinema Fusion has struggled to capture a sizeable audience, in a center that, to date, has also proved less than successful.
In an odd contradiction, the film exhibition industry, which was built around the proverbial magic of escapism, has faltered in capturing a successful presence within a place known as the Magic Kingdom. Be it poor decisions, too much competition for entertainment dollars, or simply an attraction to options one doesn't readily find elsewhere, the area has proven to be a not so Magic Kingdom for cinemas.
Tags: 1 Comment