Back in the winter of 1925, the nation was captivated by the story of the "Serum Race to Nome"; in which antitoxin was rushed to the isolated town of Nenana, Alaska, via train and dog sled, to combat an outbreak of diphtheria. While involving 20 mushers and 150 dogs, fame ultimately fell on Gunnar Kaasen and his lead dog Balto. The two become national celebrities for a time, touring the country and even appearing in a short film, "Balto's Race to Nome".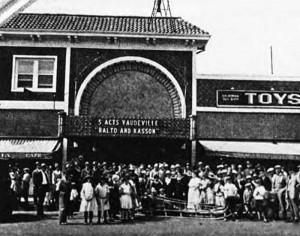 Among the duo's promotional appearances of 1925 was a stop over at
Anaheim's California Theatre
. True to the Balto craze, the theatre sold out the day's shows and saw an overflow crowd gather at the venue for a glimpse of the famous twosome.

While the story of the serum run would go on to become a well celebrated legend (commemorated by the annual Iditarod Sled Dog Race) and Balto's story would be re imagined as the 1995 animated featured "Balto", Kaasen and Balto ended up facing the same pitfalls we see with today's pop culture celebrities. After two years of touring fairs and the vaudeville circuit Gunnar Kassen had little to show for his efforts, culminating in a series of lawsuits against promoter Sol Lesser (of Rin Tin Tin fame). Adding to his problems, Kassen was faced with mounting accusations that he and Balto were more Hollywood creation than reality. Following this brief and difficult time in the spotlight, Mr. Kassen returned to Alaska, where he lived in self impose anonymity, until succumbing to cancer in 1960. Balto was sold and continued to tour for a number of years, under conditions that left the dog neglected and in poor health. Finishing out his final years in the Celeveland Zoo, Balto died in 1933 and was stuffed for display in the Cleveland Museumm of Natural History (where he remains to the present day).    
Tags: No Comments