The area of Orange, running beside Interstate 5, has long been known for a string of popular cinemas. From the
Orange Drive-In
, to the
Cinedome Theatres
, and to the present day
AMC Block 30
, this short stretch of real estate has been home to movie going hotspots for seventy years. Yet, amid these period titans, there once stood a theatre that never quite achieved the same popularity, despite offering one of the best presentations in the county.

The City Center Theatres
were opened by ABC, on April 7, 1972, as a satellite addition to the, then high end and extremely popular, City Shopping Center. Featuring two 700+ seat auditoriums, the facility was designed in a somewhat similar fashion to ABC's much lauded Century City cinema complex; forgoing aesthetic charm in favor of offering the best in presentation quality. The theatre's cold box exterior and bland earth tone decor providing little hint that this place was truly designed for a "big" movie experience. Continually keeping pace with the day's technology, the theatre's equipment was regularly upgraded and even included a run with the fleeting Sensurround sound system. Even after changing operators, to Plitt, the City Center continued a focus on presentation; perhaps, finding it's greatest notoriety with an extended run of "Star Wars" in 1977 (a generation of county cinephiles still rave about the experience).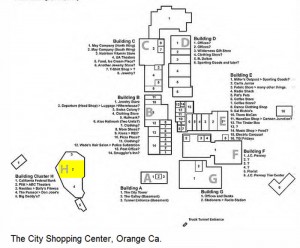 Perhaps, owing to it's isolated location on the perimeter of the shopping center, this grand movie experience always struggled against stiff competition from the near bye Century Cinedomes and a lesser cinema United Artists ran within the City Shopping Center. By the 80's, the theatre changed hands once again, being taken on by the Cinedomes' operator, and was tragically divided in to a four screen venue. Losing the theatre's single notable attribute, the subdivided version of the City Center quickly followed the overall mall's decline.
By the 90's, the City Center had become a move over discount location for Century, showing films that had already run their course at the Cinedomes. Adding to the theatre's woes, the shopping center had taken a dramatic turn for the worse and became a hangout for a less desirable element. Following a fatal shooting in the theatre's lobby, the end came relatively swiftly and the venue was closed for good. After the property was purchased in the mid 90's, by the Mills Corporation, the entire center was torn down and redeveloped as the Block of Orange lifestyle center in 1998. Today, the former site of the theatre is nothing more than another row of spaces in the complex's parking lot.
While long forgotten, the City Center Theatres and their former namesake shopping plaza have manifested themselves in an oddly cyclical bit of history, as the present day theatre and complex now struggle with the same shifting fortunes that once doomed their predicessors.  
Tags: No Comments