Those who attended Corona Del Mar's Port, during the theatre's inaugural years, were treated to "The Magic Screen of The Future".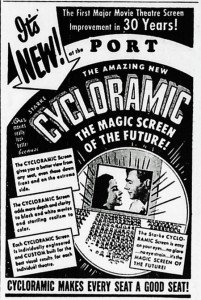 Branded with a somewhat schlocky name and grandiose marketing, at the time of its' 1949 launch, the Starke Cycloramic Custom Screen was promoted as offering a brighter, more uniform, picture, via the exclusion of perforations. Where most movie screens utilized/utilize a perforated surface to allow for better sound transfer, the Cycloramic screen possessed a "silky smooth" surface. According to promotional literature, in addition to creating a 20% brighter image, this eliminated the strobe effect found on perforated screens and reduced eye strain.
The company's marketing claims, that Cycloramic screens improved depth "to the third dimension" and made every seat in the house "a winner", were certainly suspect. However, Cycloramic did help popularize the movement towards larger screens, which were customized to better fit venues of varying sizes. In addition to the modestly sized Port, Cycloramic screens were also featured in more grand venues, such as Los Angeles' Carthay Circle and New York's Radio City Music Hall, on a larger scale.
Tags: No Comments