The celebrity prints immortalized at Grauman's Chinese have been a Hollywood landmark and "must see" tourist stop for nearly a century. However, unbeknownst to most, the Chinese isn't the only theatre in Hollywood where notables have left their mark in concrete. A little over a mile away, there stands another collection of forecourt prints, which receive far less attention and definitely aren't featured on any Starline tour schedule.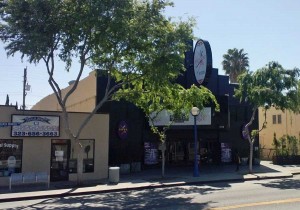 Down on Santa Monica Boulevard, between Genesee and Spaulding Avenues, sits a rather non descript structure with a history a bit more "colorful" than that of its' cross town counterpart. Opened in 1940, as the Monica, this theatre had a somewhat traditional early run, as a mainstream neighborhood cinema and art house. Then, in February of 1970, the Monica's legacy was forever changed, as the venue became Vincent Miranda's flagship location for his Pussycat Theatres chain.
Rebranded the West Hollywood Pussycat (aka Monica Cat), the theatre arguably turned in to the most infamous cinema in Los Angeles. During the heyday of "porno chic", this was where celebrities went to see "dirty movies", where "Deep Throat" screened for nearly a decade, where city hall chose to target their highly publicized war on porn, and where the adult film industry held their own world premieres, complete with hand print ceremonies.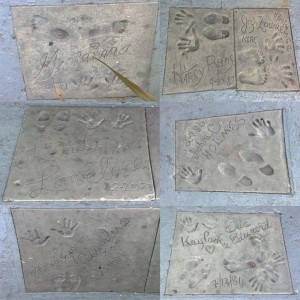 The days of adult premiers, national publicity, and sellout crowds have long since vanished for the Monica. Renamed the Tomkat, then Studs, the theatre now caters to a gay audience and maintains a much lower profile. However, the concrete markers of an era passed remain. Much like Grauman's, one can still place their palms in those of the stars; only, at this place, it's John Holmes and Linda Lovelace, rather than Clark Gable and Marilyn Monroe.
Tags: Comments Off on A Shrine To The Other Hollywood